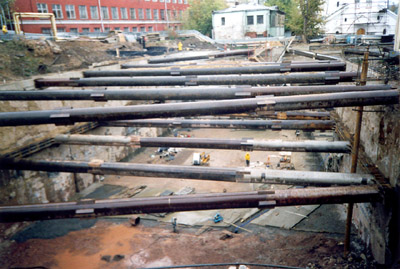 Enclosure and temporary support of excavation pit.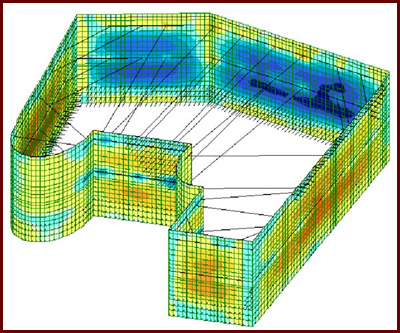 3D model of enclosure of excavated pit its temporary 2-level metal sup- port on the construction of the underground part of car parking at 6, Turchaninov Lane. Stress isofields by My.

An enclosure and temporary support of excavation pit having overall dimensions about 65x42 m and depth of 13.3 m were projected and executed on the site in 2002.

Basic technical solutions:


excavation pit enclosure is the in-situ reinforced concrete bearing dia- phragm walls of 60 cm thickness and of 3665 m2 area, being at the same time the watertight diaphragms with the waterproofing tapes of "Water-stop" type in joints between the panels (under the French company "SOLETANCHE BACHY" technology);


temporary support is executed by two tiers of metal pipe buntons and braces.
Details…
Publications…
Patents…
Drawings catalogue…