"Yurkevich Engineering Bureau" Ltd. is registered with Moscow Registration Chamber - Certificate
¹ 001.457. 139
dd. 05.11.2000 and it has Certificate of the International Designers Union:
• 0039.04-2011-7706210549-P-070 dated 10.10.2011 about the permit-to-works on preparation of the design documentation which influence safety of objects of capital construction on especially dangerous, technically difficult and unique objects of the capital construction influencing safety of specified objects.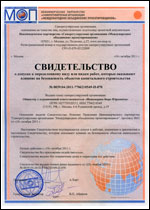 19, 4
th
Roschinsky Road, Office 303,
115191, Moscow, Russian Federation.
INN 7706210549, KPP 772501001,
settlement account:
¹ 40702810338250123341,
corr. account:
¹ 30101810400000000225,
BIK 044525225
in Moscow Bank of Sberbank,
Moscow, Russian Federation
Pavel B. Yurkevich
is the director general:
Visiting card:
pdf, 149 Kb