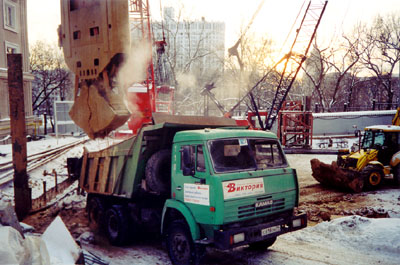 Erection of diaphragm walls according to the French company "Soletan- che Bachy" technology in the construction the zero cycle of a 14-storey exclusive apartment house at 4, Kapranov Lane (against the backgro- und of the Government House of Russian Federation).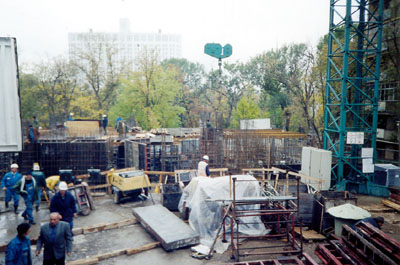 Zero cycle closeout, onset of the 1st storey construction.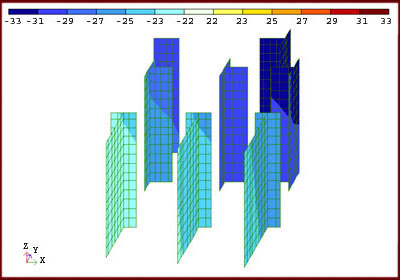 Vertical deformations isofields of the 14-storey exclusive apartment house deep foundations during the construction completion phase.



There were projected on the object and in October 2001 – April 2002 executed the enclosure and temporary support of excavation pit of 28.2õ21.9 m to the depth of 8 m from the working level, as well as deep foundations, preliminary plugging operations with subsequent cementation to consolidate Perkhurovsky karst limestone.

From May to September 2002 simultaneously to the construction a foundation slab, in-situ reinforced concrete structures for the -3, -2 and -1 storeys as well as waterproofing of zero cycle were projected.

Basic technical solutions concerning the special geotechnical works:


cement-bentonite preliminary plugging of Perkhurovsky karst limestone roof under the bases of diaphragm wall panels and deep foundations to prevent the bentonite slurry losses during the trenches excavation process;


excavation pit enclosure – in-situ reinforced concrete bearing diaph- ragm walls 60 cm thick, up to 21.5 m deep with an area of 1849 m2 which at the same time are watertight diaphragms with water- proofing tapes of "Waterstop" type placed between the panels (under the technology of the French company "SOLETANCHE BACHY");


seven deep foundations with T-cross-section and one with a rectangular cross-section of 60 cm in thickness, up to 12.6 m in height and up to 20.5 m deep relative to the working level;


cementation of Perkhurovsky li- mestone stratum from the bases of the diaphragm wall panels and deep foundations to the roof of water- proof clay marls through the em- bedded metal pipes;


one-level temporary metal sup- port of the excavation pit – with 4 angular pipe knees and one inter- mediate bunton.

Basic technical solutions of in-situ reinforced concrete structures and waterproof of the zero cycle:


waterproofing of the foundation slab – with the bentonite mats Voltex;


waterproofing of diaphragm walls is absent and watertightness of panels and joints, between them is ensured by special technology of their construction;


the foundation slab of 60 cm thickness with up to 78 cm thic- kening over the deep foundations;


floor-slabs of 30 cm thick (under the pool – 40 cm thick) – plane, girderless;


the walls of 25 cm thick;


the columns 60x60 cm, pylons 60x80 cm and 60x120 cm.
Details…
Publications…
Patents…
Drawings catalogue…