Administrative building of JSC "AK TRANSNEFT" (Moscow). Construction nearing completion.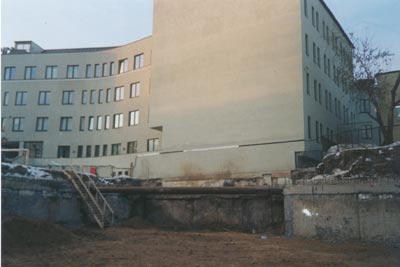 Enclosing and support of excavation pit of administrative building under construction.



Enclosing and temporary support of foundation sized 28.8ő27.6 m and 5.1 m-deep was projected and in 1999 executed.

Basic technical solutions:


Excavation pit enclosure - in-situ reinforced concrete bearing diaphragm walls, thickness 60 cm and area - 890 m2, also ser- ving as watertight diaphragms with "Waterstops" insulation tapes fixed at joints between panels (by French company "SOLETANCHE BACHY" technolo- gy);


Temporary support by two metal pipe buntons only in the area where newly built walls joints are open.
Details…
Publications…
Patents…
Drawings catalogue…