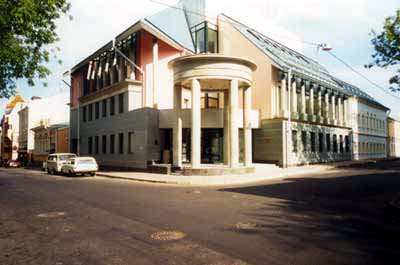 A.S. Pushkin Museum Funds Storage (Moscow).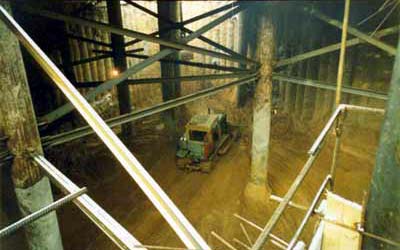 Pit excavation in construction of Funds Storage.



There were main structures and waterproofing of a three-level zero cycle of the funds storage, layout size - 28ő40(19ő37) m, consolidation of foundations of three buildings under reconstruction and restoration, pile base foundation of the tower crane were projected and in 1996-1998 executed on the site. In addition, we performed general organization of construction and applied special building technologies.

(DWF-drawing, 34 Kb)
Basic technical solutions:
Consolidation of historic buildings foundations by soil-cement rein- forced columns diameter 60 cm, made in accordance with "jet-grouting" technology;


Construction of funds storage facilities following "top-down" tech- nology - simultaneous construction of three basement and two out of five superstructure floors;


Excavation pit enclosure by bored-secant piles diameter 83 cm with flushing and grouting of foo- tings;


Intermediate props - bored co- lumns, diameter 63/120 cm with flushing and grouting of footings (constructed based on the "know-how" by Pavel B. Yurkevich for the first time in Russia as ready-made permanent bearing structures);


Soil excavation in 11 m-deep pit - protected by only one floor slab at surface level;


Waterproofing - two layers of "Isoplast" preserved by cast-in-situ reinforced concrete protective walls, thickness 20 cm.
Details…
Publications…
Patents…
Drawings catalogue…